2020-12-31 Thu 15:10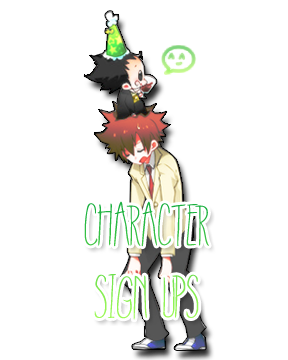 Please note that each person is only allowed
one
character at the moment. More may be added in the future if the demand is high. Only
canon characters with known names
are allowed.
Animal characters are now available and may be taken as a second character, but you are not allowed to choose your own character's familiar.
This is on a first-come-first-serve basis.
Taken
in alphabetical order by first name, pay no attention to the comment the taken list is updated the second a person joins or drops. SO THE CURRENT LIST IS UP TO DATE!
MAIN CONTACT
Bermuda von Vichtenstein
(ADMIN)
ACROBALENO
Verde
KOKUYO GANG
Mukuro Rokudo
MILLEFIORE FAMILY
Byakuran
Irie Shouichi
PRIMO FAMILY
Ugetsu Asari
VARIA
Belphegor
Fran
Lussuria
Superbi Squalo
VONGOLA FAMILY
Chrome
Kyouya Hibari
Lambo
Ryohei
Tsuna
MISC CHARACTERS
Basil
How to Sign Up
Comment to this post with the following information and please fill out everything provided. Check email in less that 24 hours and you will receive a reply saying you are accepted.
Name:
E-mail:
Character:
Plurk Account for your character:
Your character wakes up on a boat in the middle of an ocean without knowing how they got there, their first reaction: (in first person roleplaying, use /slashes/ for actions)
You are not required to make the account first. (But if you wish to be part of the roleplay faster you should have one available during the sign up)
IF A CHARACTER YOU REALLY WANT IS TAKEN
You are welcome to click their profile. If they have not updated in a long time feel free to apply for the character, but wait for an email saying if you got it or not. You are not guaranteed the character remember that.
To find out if you have been accepted, see if your character appears under
Taken
. It will be updated within 24 hours upon approval, or sometimes immediately, if you are lucky. You may also check
Bermuda
's Plurk for such updates.
In cases where more than one application is submitted before the admin is able to approve, the best will be chosen and the list will be updated with a
&[PlayerName]
at the end and left as it is for a few days. Bermuda will also specifically mention this.
Upon approval, please create your account (if you haven't already) within
3 days
unless you specify otherwise. After that, feel free to add all other characters as Friends and begin cracking.
Please don't forget to add our URL to your description (which should show up a few days after you join) so that others can find us!